ABOUT US
LOREM IPSUM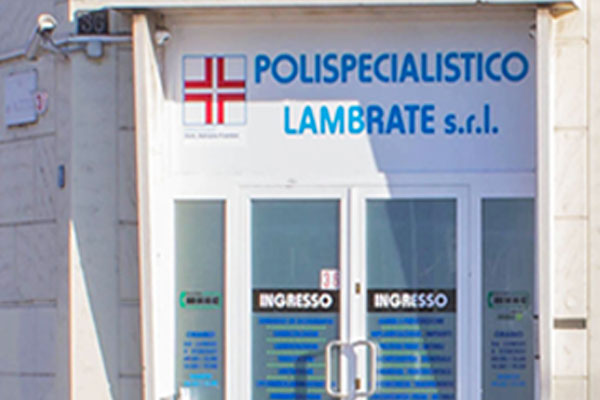 Polispecialistico Lambrate is a private healthcare facility founded in 2013. We aim to offer the child, adult or elderly patient complete, rapid and efficient health care at controlled, accessible and territorially competitive rates.
With thirty years of experience in the healthcare industry, our founders and partners set out with the high goal of satisfying the ever-increasing need for specialist visits and professional therapeutic paths modelled on the needs of the individual. We recognise specific patient requirements, including the need for rapid response times, but even more so, access to an overall comprehensive service.

At Polispecialistico Lambrate, the patient is our central focus. At our facility, a patient is followed across the entirety of their healthcare requirements – A team of highly qualified and specialized doctors and paramedics, together with state-of-the-art medical equipment (in line with the evolution of medical sciences) and a friendly and comfortable environment, constitute the way that we deal with health, prevention and early diagnosis. At our facility, patients can avail of a wide range of services offered at the specialized operating units of our structure or even have the option of availing quality service at their doorstep via our home healthcare assistance / service, making Polispecialistico Lambrate a complete and effective point of reference for the healthcare needs of patients in Milan.
THE MEDICAL EQUIPEMENT
Polispecialistico Lambrate pursues the mission of placing the patient at the centre of the healthcare system, through a conscious and responsible approach practised by all the medical and paramedical staff integrated into the structure.
Our team of doctors and specialists are carefully selected and hand-picked from the most reputed universities and hospitals (in Italy and abroad) based on their experience in the medical field, and their professional and ethical conduct. Our careful selection process ensures that we pick the best professionals with the ability to listen actively and empathically to the patient, and a demonstrated excellence in availability and responsibility towards the patient. We recognise that it is important for our specialists and staff to be well-rounded individuals in order to adequately meet patient needs and guide patients in an effective and efficient manner along their healthcare path.
At the Polispecialistico Lambrate, in addition to specialist medical staff, we also have a dedicated team of technical, administrative and nursing staff, ready to respond effectively to patients' requests from an informative, operational and logistical point of view. Our staff ensures that patients' needs are catered to from end to end and that they have a comfortable and satisfying clinical experience.
OUR SERVICES
Active conventions